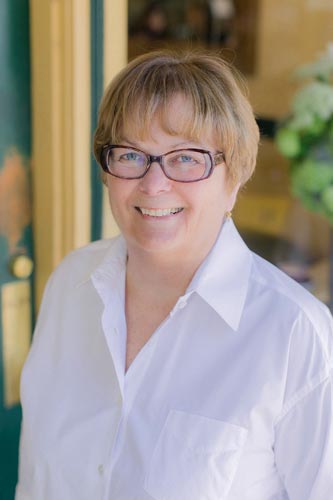 KAREN MITCHELL
Karen Mitchell grew up in Portland, Oregon, where her family was involved in the food business- running the popular Berg Chalet (James Beard was a regular customer) for many years. In the mid-1970's, after completing her BA at Willamette University and graduate work at UCLA, she moved with her husband, John, to St. Helena – where John had spent many summers as a child.
She started a catering business which was immediately successful and grew rapidly along with the expanding wine industry during that period. Having traveled extensively in Europe, Karen fell in love with the quality and abundance of European breads (mostly in France) and always dreamed of reproducing that quality at home. When, in 1984, the local bakery (then called The Sugar House – but originally called the Model Bakery in the 20's and 30's) became available, she jumped at the opportunity to turn it into a real European-style bakery. With all her treasured family recipes for breads and pastries it quickly gathered a local and regional following.
In 2000 her daughter Sarah decided to leave the corporate world and help her run the business in St. Helena. Karen is now working on a cookbook and lives on a family farm where they grow Syrah grapes and produce a small bottling of 'Four Cairn Vineyard Syrah' wine. Karen and John have a large organic garden that supplies the bakery with vegetables, fruit, eggs and herbs daily.