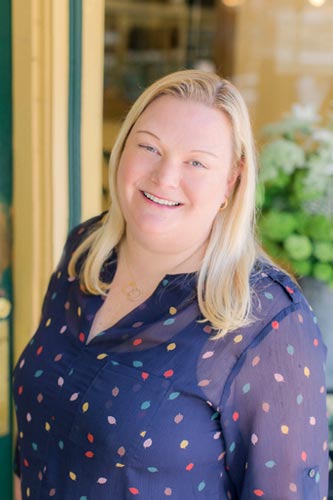 SARAH MITCHELL HANSEN
Sarah grew up on a small farm in St. Helena, in the middle of the beautiful Napa Valley. Her mother Karen purchased the Model Bakery when she was ten, and Sarah would walk over to the bakery after school and spend the afternoon doing her homework on the bags of flour while she munched on a freshly baked cookie. The Model Bakery has always been a part of her life.
While attending UC Santa Cruz, Sarah spent her junior year in Barcelona, Spain, studying politics and Spanish and traveling abroad. After college, she worked in the corporate world (Xerox, Canon and Oracle) for 8 years. When her mom mentioned she was thinking of retiring and was going to sell the bakery, Sarah and her husband Chris decided to move back to the Napa Valley while Sarah worked to expand the bakery, and start its wholesale business.
In 2008 Sarah opened the Oxbow Public Market location in Napa to increase the wholesale production and offer another retail outlet. Chris and Sarah now live in Napa with their son, Alexander, who loves Model Bakery bread (and of course chocolate chip cookies)! Sarah loves cooking and is an avid gardener. She serves on the Board at Connolly Ranch – a small educational farm in Napa designed to teach children about organic gardening and cooking.